News
Subscribe to posts
It was a great session with
Mr Patrick Chin Jun Hua
from DF Automation and Robotics Sdn Bhd (
www.dfautomation.com
) to share on the topic of
Developing Industry Autonomous Mobile Robot using ROS (Robot Operating System)
. 
Patrick did his Bachelor of Engineering (Electrical-Mechatronic) at
Universiti Teknologi Malaysia
back in 2012. 
During his undergraduates, Patrick has shown his strength and strong interest in software development. He was leading the software development for CR2 back then and within a short 1 year, the project has won multiple awards nationally and internationally such as British Invention Show, Innovate Malaysia and so on. 
He graduated with 1st Class and won Malakoff Academic Excellent Award on his graduation day. He was supervised by Associate Professor Dr Yeong Che Fai for his Final Year Project entitled Compact Rehabilitation Robot (CR2). 
Patrick then joined DF Automation at the very early stage together with Dr Yeong. Patrick is a very important and key founding team for DF. He is one of the core architect for all DF software including NavWiz and DFleet. NavWiz (Navigation Wizard) is a easy to use web based software to program robot run autonomously while DFleet is a fleet management software to manage and coordinate up to 30 robots to run in a same factory. 
In the talk, Patrick shared some of the technical backend on ROS used in DF robots. He also shared 5 tips to become a good programmer. And, yeah, he did a live demonstration as well by remote access to a robot virtually at DF Office while Patrick was a home. Talk about Industry IoT.
Thanks Patrick Chin Jun Hua for the wonderful and inspiring talk and hope Airost members can benefited from this talks. 
Figure: Flyer showing Mr Patrick Chin Jun Hua talk on Developing Industry Autonomous Mobile Robot using ROS. 
Figure: Mr Patrick demonstrated some live demo connecting remotely to a Robot at DF Office in Johor Bahru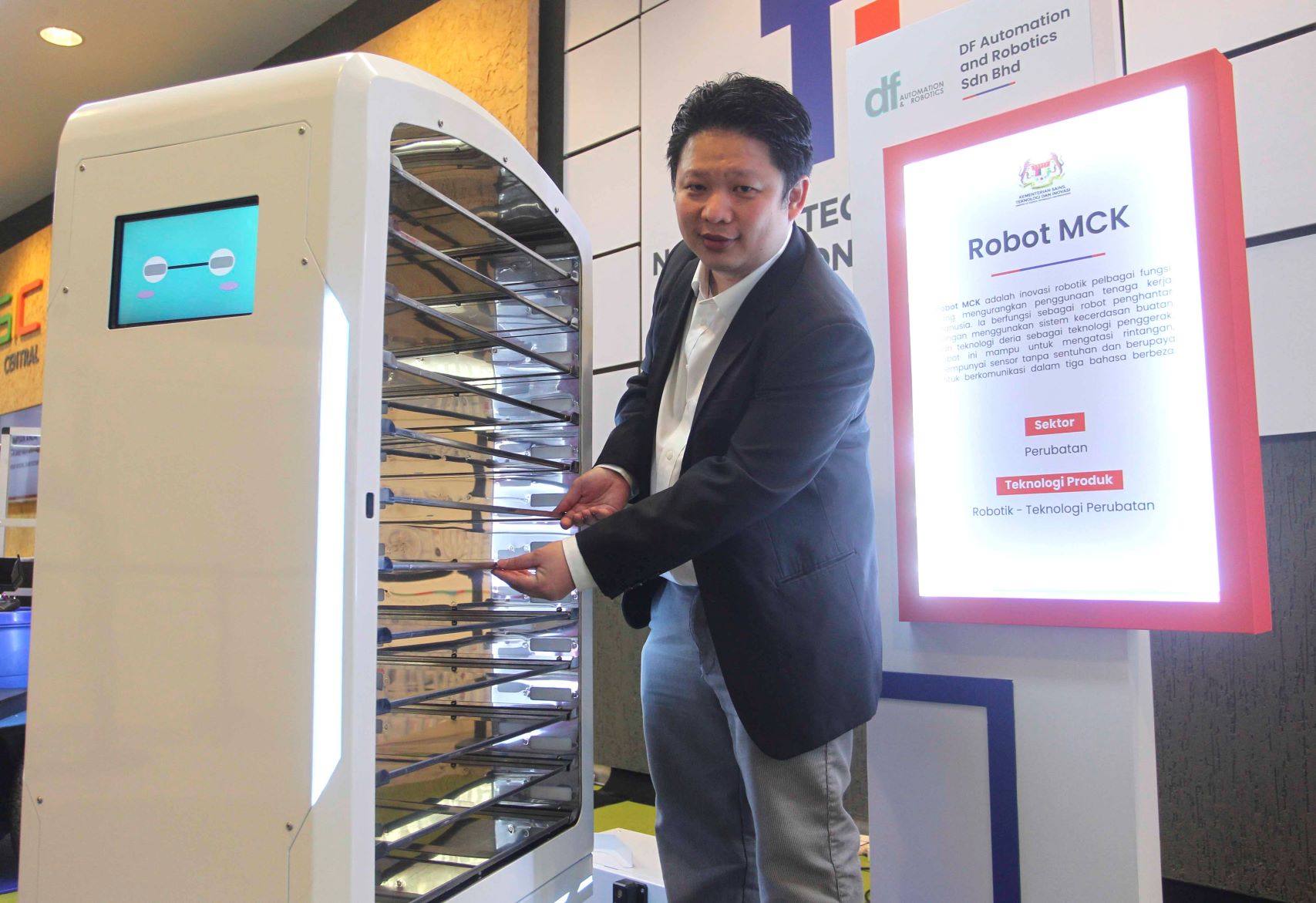 Pengarah DF Automation & Robotics Sdn Bhd, Yeong Che Fai bersama produk Robot MCK (Makcik Kiah) pada Majlis Pelancaran National Technology dan Innovation Sandbox di Malaysian Global Innovation & Creativity Centre (MaGIC), di Cyberjaya, 19 Ogos. - UTUSAN/ FAISOL MUSTAFA
Click here for full article: link.


COVID-19
31st of December, 2019 marked the date where several pneumonia cases arose in Wuhan City, in the Hubei Province of China. The World Health Organization (WHO) was the first to recognize that this case did not match any other known viruses. After going through some research, the Chinese authorities later confirmed that it is a new virus and it is temporarily named as "2019-nCOV". Later, WHO named it as "COVID-19" which stands for 'CoronaVirus Disease 2019' on the 11th of February.
The virus somehow spread rapidly and on the 11th of  March, the United Nations agency responsible for international public health declared it a pandemic. The government is currently committed to tackle this problem by reducing the number of new cases rapidly.
COVID-19 in Malaysia
On the 25th of January, Malaysia announced the first COVID-19 case involving three tourists from Singapore who entered Malaysia through Johor on the 23rd of January. The first wave of these cases were detected on the 16th February where the cases rose to 22. By the 27th, the second wave started after 11 days of no new cases being reported. The number of affected people had risen to more than 1000 cases later on.
The Malaysian government took proactive actions to fight over the number of new cases by imposing a two-week RMO (Restriction of Movement Order) which started on the 18th of March and will end on the 31st of March. However, the number of new cases is not reducing; hence the government decided on a two-week extension of RMO, which will end by the 14th of April.
In this hectic situation, solutions are needed to effectively combat the disease. One of the solutions is by preventing individuals from being in direct or indirect contact with the virus. Besides quarantining the infected ones, there are risks that the healthy ones might have been infected. For example, nurses might be infected while they were serving their patients; a bus driver has the chance to contact the infected one in the bus; an officer has a risk too during the disinfection activity. Considering the aforementioned risks, the usage of the Autonomous mobile robot (AMR) could be a helping hand in replacing humans to do all these high infection risk tasks. Robots are immune to the virus and they can be run in a long period of time. You can learn more about AMR here AMR: The new look of AGV.
How can AMR help to fight against Virus?
AMR can potentially assist frontliners to fight COVID-19 in many areas such as to carry out disinfection activity, temperature measurement at public space, medicine delivery in hospitals and food delivery. Other advantages are outlined here: Advantages and Disadvantages of AMR.
Disinfection is one of the main activities in combating COVID-19. Certain areas where the risk of infection is high have to be disinfected, such as hospitals, markets and public transports. For example, in disinfecting a bus, the process involved people to spray disinfectant on the entire surface in the bus before wiping them down. One disinfect process will take around 40 minutes with two human powers. Plus, there are always certain corners that cannot be reached or covered by humans.
Another great alternative is by using the Ultraviolet (UV) Rays which can disinfect the area in five minutes only (source). According to the latest diagnosis and treatment guideline of the novel coronavirus released by the National Commission, the virus is sensitive to UV light and heat. In other words, UV radiation can eliminate the virus effectively. As stated in the guideline, UV light with an intensity of over 1.5 watts per square meter can be used to disinfect indoor spaces. Ventilation should be done to a room after UV disinfection, and people are suggested to enter the room 30 minutes after the process. Although it is effective to kill the virus by using UV lamps, the usage of UV lamps should be cautious as UV radiation can result in skin irritation. Thus it is not suitable for sterilising hands or other parts of the skin (source).
Although UV is able to disinfect the area in five minutes, it requires manual labor to transport the platform from one location to another. In addition, UV rays require a 30 minutes settling time which increases the cycle time. This is where the AMR has the advantage as AMR is able to complete the process automatically without involving any human presence. This also minimizes the chance of infection and reduces exposure to the UV light too. The figure below illustrates the proposed design of AMR with UV and Spraying disinfect equipment.
DF is looking for partners – it could be you!
As the government has pulled out tremendous actions to reduce the number of COVID-19 cases, DF intends to contribute an effort for the government in fighting COVID-19 by developing solutions like autonomous UV disinfecting, disinfectant spraying or temperature reading by using AMR. We are actively looking for partners who are experts especially in the field of cleaning, disinfection, sterilisation or hospital operation to collaborate with us to make this project a success. We do hope that we can help to eliminate the virus with these innovations. Feel free to contact us at sales@dfautomation.com if you are interested to explore further.  Take care and stay safe.
Figure: Illustration shows proposed AMR design in performing autonomous disinfection using UV and Spraying.
Figure: Another concept of disinfection using spraying with Autonomous Mobile Robot (AMR)
————————————————————————————————————————————————————————————————————————————–
Co-authored by: 
Dr Yeong Che Fai  I  
Noor Atikah Soleha Mad Alim  I  Ong Wei Lin  I  Ow Zi Yang  I  Aliya Binti Khairuddin
Illustration by: 
Ken Wong  I  Robert Ting  I  Muhammad Sofwan Bin Zamri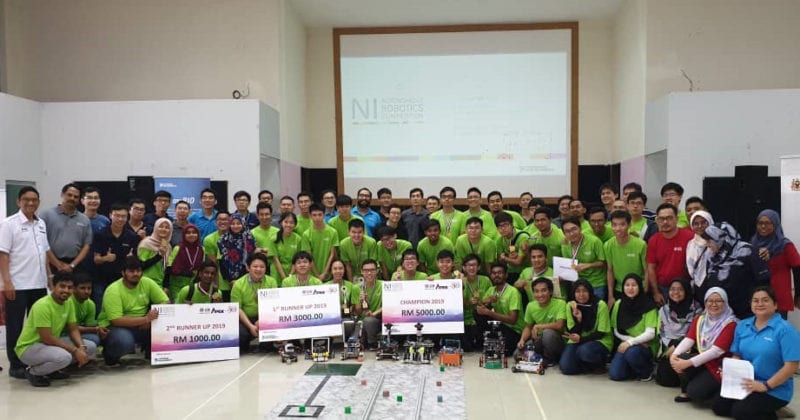 Two teams from Universiti Teknologi Malaysia (UTM) were declared as the Champion and 1st Runner Up at National Instruments Autonomous Robotics Competition 2019 (NIARC) held at Universiti Sains Malaysia (USM) Nibong Tebal branch campus.
The 2019 theme was "Planet Exploration – Mars Exploration Program", whereby students were required to design and program the hardware to gather specific materials for research, both autonomously and manually in a specific duration – to determine if Mars could support life, to study the geology of the planet and to help prepare for human exploration.
UTM team supervisor, Assoc. Professor Dr Yeong Chee Fai said that in this competition, the participants were expected s to use the industry-leading NI hardware and software to design an engineering solution based on a specific theme.
"In this year's competition has witnessed 11 teams of students from five local institutions of higher learning (IHL) namely UTM, USM, Universiti Putra Malaysia (UPM), Universiti Malaysia Pahang (UMP) and Penang Skills Development Centre (PSDC).
"All participants were trained by trainers from NI and a unit of myRIO 1900 was given to each team during the program. All participants also received RM1, 500.00 to allow them to build a robot, a track and other items," said Dr Yeong.
UTM  sent two teams from Faculty of Engineering namely UTM Airost Team X and Airost Team Y supervised by Assoc. Prof. Dr Yeong Che Fai and Assoc. Prof. Dr Eileen Su Lee Ming respectively. The students were from the School of Electrical Engineering and the School of Mechanical Engineering.
1) Chia Ching Seng (Mechatronics Engineering 3rd Year)
2) Ng Wen Da ( Mechatronics Engineering 3rd Year)
3) Pua Khe Leng ( Mechatronics Engineering 3rd Year)
4) Tan Kui An Andrew ( Mechatronics Engineering 4th Year)
1) Maximilian Fam Khiung Vui (Mechatronics Engineering 3rd Year)
2) Goh Chien Nam ( Electronics Engineering 4th Year)
3) Moh Jun Zhou ( Mechatronics Engineering 3rd Year)
4) Kimberly Foo Ming-Xia ( Mechanical Engineering 3rd Year)
It was a nerve-wracking competition with all teams fighting for the top positions. Both UTM teams were fortunate to be able to secure the top two places. With the ease of the NI platform, both UTM teams managed to focus on developing the application with a high level of complexity including PID and Image Processing.
"This is a very good initiative by National Instrument to organise NIARC to promote STEM Education as well as to bridge collaboration closely between university and industry.
"The students really benefited from this program in learning about robotics and technology in a very short time. I hope this program will continue every year and other industry can emulate the similar program", said Dr Yeong.
The teams received various supports from different sources  including National Instruments (NI), UTM, Center of Artificial Intelligence and Robotic (CAIRO), Airost and UTMXcite.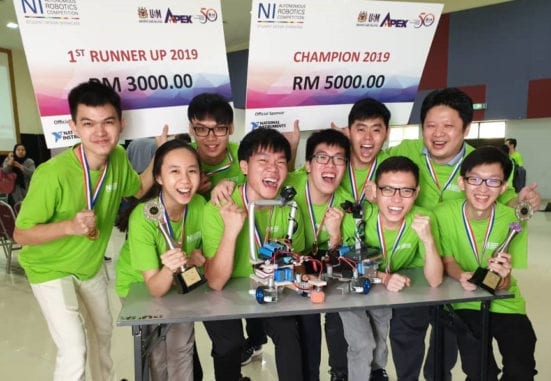 Both UTM Airost Team X and Team Y  with their trophies and mock cheques.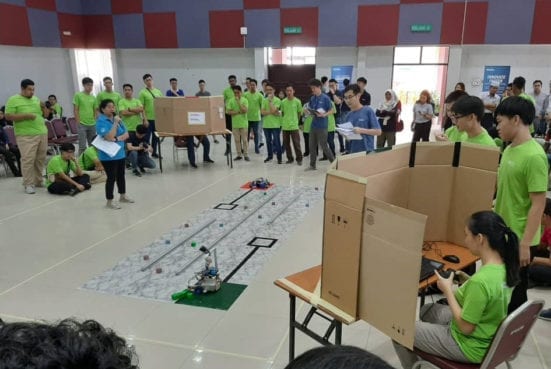 UTM Airost Team Y was competing with opponent on the NIARC game field.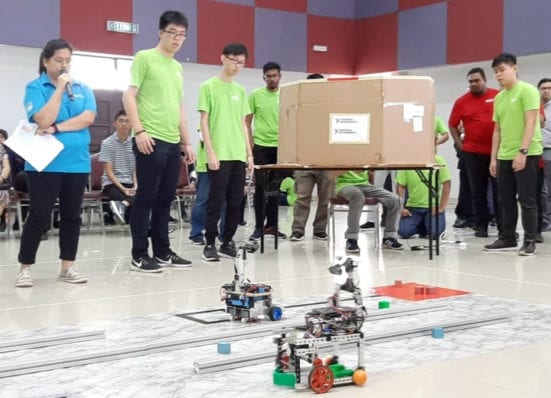 One of the tense moment during UTM Airost Team X match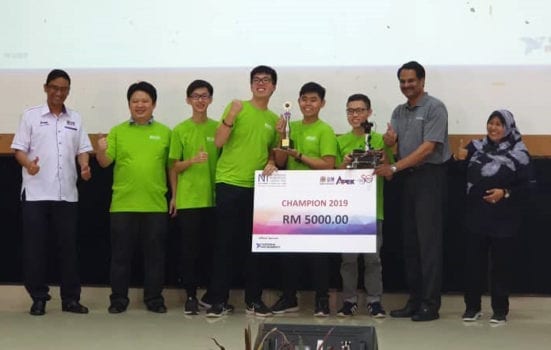 1st Place Award presented to UTM Airost Team X by YB Dato' Ir Dr Abdul Rahman (USM Deputy Vice-Chancelor), Mr Rajesh Purushothaman (Vice Precident for APAC Manufacturing, NI) and Azian Wahad (Academic Relation Manager, NI)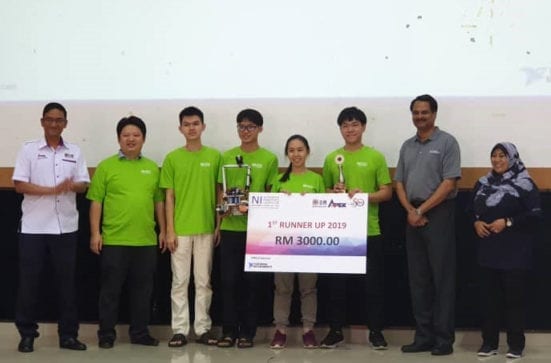 1st Runner Up Award presented to UTM Airost Team Y by YB Dato' Ir Dr Abdul Rahman (USM Deputy Vice-Chancelor), Mr Rajesh Purushothaman (Vice Precident for APAC Manufacturing, NI) and Azian Wahad (Academic Relation Manager, NI)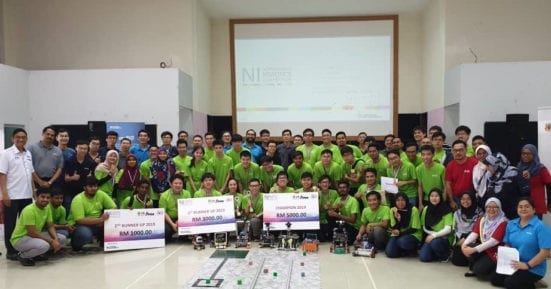 NIARC 2019 Group Photo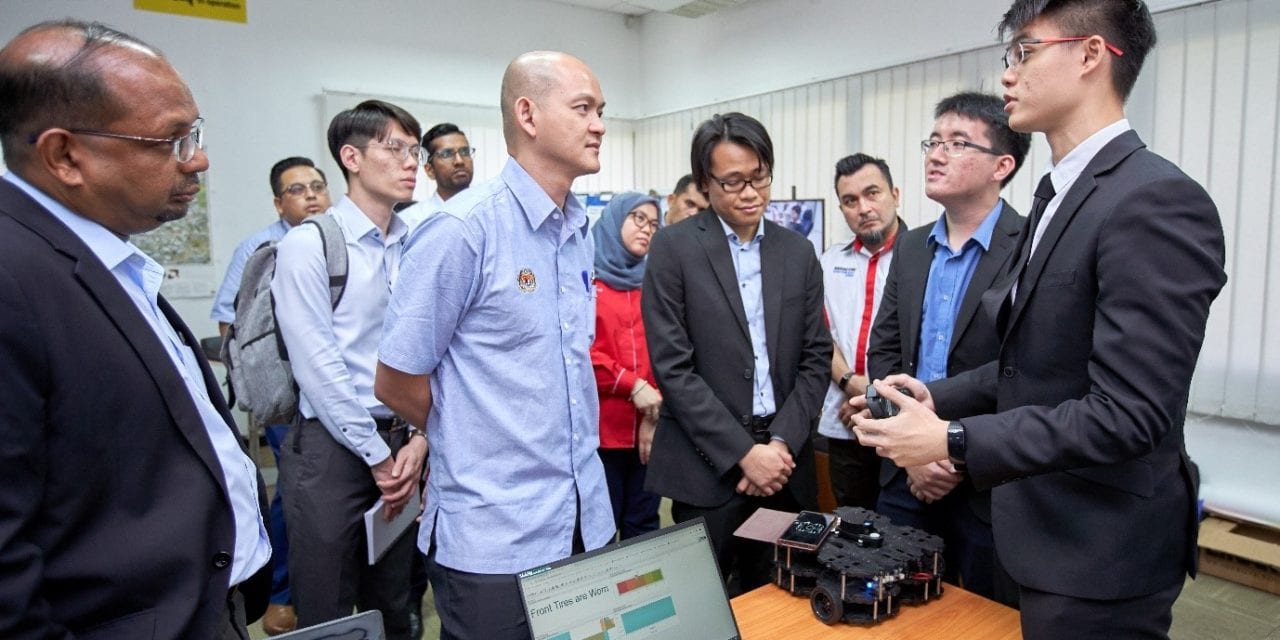 JOHOR BAHRU, 24 Sept. 2019 – A three-year research grant worth RM575, 999.00 was approved by the Collaborative Research in Engineering, Science and Technology or CREST to Universiti Teknologi Malaysia (UTM).
This grant was disbursed for the purpose of cultivating a new research project which can be utilized in a real industrial environment.
This research project involves a collaborative effort from two industrial partners, SAS Institute Sdn. Bhd and DF Automation & Robotics Sdn. Bhd. which will bring in their expertise for data analytics and robotics.
The Chief Executive Officer (CEO) of DF Automation & Robotics, Assoc. Prof. Dr Yeong Che Fai said the research project is entitled 'Design and Development of an Augmented Reality (AR) Enhanced Predictive Maintenance System with Artificial Intelligence (AI) for Industrial Mobile Robot'.
"I was given the task to lead this project along with my three researchers namely Goh Kai Woon (PhD student) and Koh Ye Sheng and Marvin Dares (both Master students) as part of their postgraduate research projects," said Dr Yeong.
Dr Yeong added that this project was designed with three aims which were to investigate the highest contributing factors affecting Remaining Useful Life (RUL) of industrial mobile robots, to design a novel predictive maintenance algorithm for industrial mobile robots using data analytics and to investigate the efficiency of Augmented Reality (AR) application in guiding users to troubleshoot machine failure.
"This project was actually an extension from a final year project in which the project has won awards from several competitions such as UTM IoT Hack 2017, The Great Lab Challenge (TGL) Data Analytic Track 2017 and Innovate Malaysia Design Competition (IMDC) SAS track 2018," said Dr Yeong.
The project currently has a working mobile robot prototype that is integrated with the predictive maintenance system and has a prediction rate of up to 90% accuracy. The team has been invited to present at several events including the SAS Global Forum 2019 in Texas USA, SAS AIoT Summit 2019 in KL and CREST showcase 2019 in Penang.
UTM believes collaboration with industries in solving some of the current challenges in this industry 4.0 revolution is one of the effective ways to move forward and to welcome industries for any potential collaboration.
CREST was initiated after a series of dialogues between industry representatives from the E&E sector and former Minister at the Prime Minister's Office, YB Tan Sri Nor Mohamed Yakcop. CREST is a non-profitable entity and a platform that promotes industries, academia and government to work together on research, design and development activities.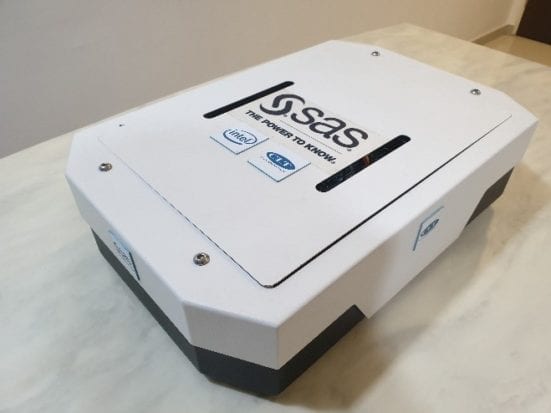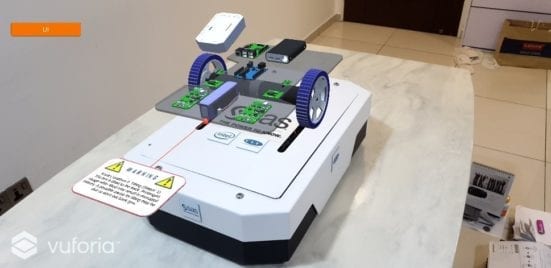 Figure 1: (From left) the industrial mobile robot prototype integrated with predictive maintenance system and visualized with an augmented reality overlay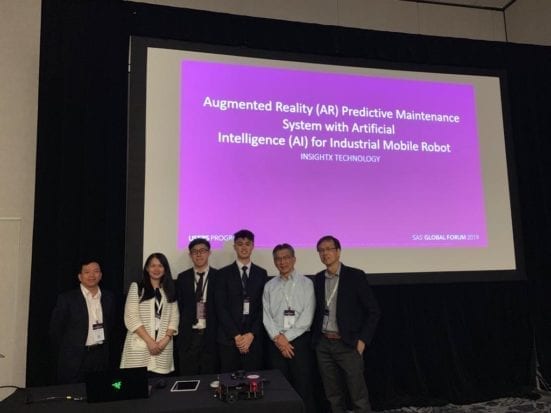 Figure 2: Project presentation during SAS Global Forum 2019 held in Dallas, Texas on 29th April 2019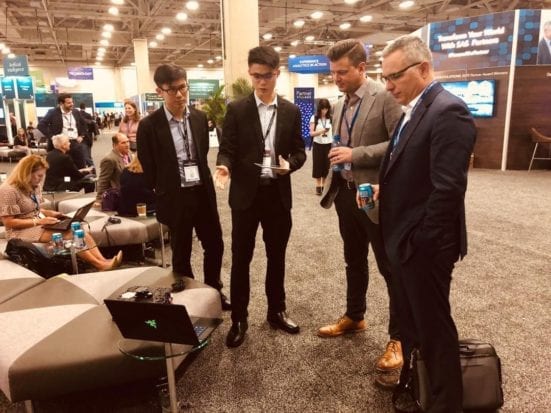 Figure 3: Project presentation during SAS Global Forum 2019 held in Dallas, Texas to SAS's Internet of Things (IoT) experts on 29th April 2019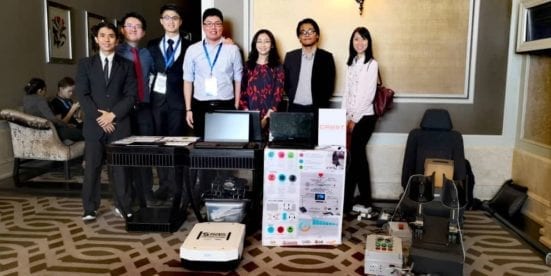 Figure 4: Project presentation in SAS Malaysia AIoT Summit 2019 held in KL on 23rd July 2019 and Penang on 25th July 2019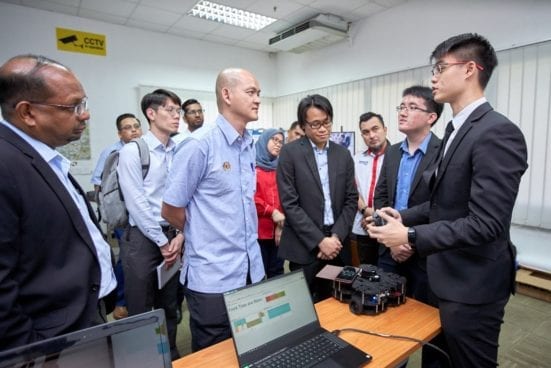 Figure 5: Project presentation to Deputy Minister of MITI (Ministry of International Trade and Industry), Dr. Ong Kian Ming and his colleagues at CREST office, Penang on 5th September 2019
Original copy: 
https://news.utm.my/2019/04/utm-graduate-deploying-ir-4-0-robotic-solution-in-mexico-within-6-months-of-employment/?fbclid=IwAR1jjjWji4R-Ech_VKc6o0o9SYn64g2M8L7uNff9xn2ZH6OFtuyabN3mXh4
JOHOR BAHRU, 27 March 2019 – The huge amount of experience gained from an internship session, and as a part time software engineer have enabled one of the Universiti Teknologi Malaysia (UTM) graduates to successfully deploy robotic solution in Mexico after graduation.
Nik Ahmad Faisal Kamarolzaman graduated in 2017 with a Bachelor of Mechatronics from the School of Electrical Engineering, Faculty of Engineering of UTM Johor Bahru with flying colors.
In an interview session held at his home recently, Nik Ahmad Faisal said that it all started with his internship during his third year study in UTM.
"It all started with my internship at DF Automation during my 3rd year study in UTM. I was aware that prior engineering experience and hands-on skills could help boost my career when I step out from university.
"After the graduation in 2017, I chose to work in DF Automation, a small company founded by our university lecturer focusing on designing and manufacturing automated guided vehicles (AGVs)," he said.
Nik Ahmad Faisal said working in a small engineering company would allow him to know the full scale processes of product design and provide him the opportunity to work on major projects for the industries.
"That internship experience really enhanced my knowledge and experience because I was working with a group of highly skilled and passionate engineers, most of whom graduated top of their classes with international accolades to their name.
"After the internship, I continued to work part time with DF Automation as it helped me to ease my financial burden besides, the company was located near to the university. It was tough to balance between work and studies, but the tasks allocated at work actually accelerated my learning at the university, helping me to move ahead in the class," said Nik Ahmad Faisal remembering his past.
After his graduation from UTM, Nik Ahmad Faisal joined DF Automation as a software engineer, a job which he immediately started after finishing his last university examination paper.
"Within six months of the permanent employment, I was entrusted to deploy factory automation projects to several countries. One of them was a 3-week deployment to Mexico, where I was required to program the AGV navigation on site and linked up to the company's system.
"The customers were satisfied with the deployment and I was further sent to India, Singapore and Thailand to deploy more automation solutions for other multinational companies. It never crossed my mind that I would get to visit so many countries in such a short time upon employment including Paris and Amsterdam," said Nik Faisal.
Nik Ahmad Faisal said he also appreciate the time spent with the engineers and local community, understanding their work cultures and ethics. For example, the Mexican team was very technical and would try their best to troubleshoot any issues in line on their own before getting vendor support down to component level.
Looking back to his past, Nik Ahmad Faisal said that he was very much lucky to be selected as UTM students.
"When studying at Diploma level in UTM Kuala Lumpur, I started to explore robotic projects and build several prototypes and joined robotic competitions. After furthering my studies at the degree level in UTM Johor Bahru, I met Dr Yeong Che Fai who co-founded DF Automation & Robotics with a few other UTM alumni.
"It was rare to meet a lecturer who can juggle between research, academics and business at the same time. He mentored me during my internship and part time work. After completing my internship, I asked Dr Yeong to be my final year project (FYP) supervisor as he was known to design projects with commercial value and having award potential," said Nik Ahmad Faisal.
The FYP project was to develop a service robot that could recognize people, their demographics and emotion to show targeted advertisement, at the same time analyzing demographic data of the crowd.
The project was a collaboration between UTM, DF Automation and Pepperl+Fuchs. Pepperl+Fuchs is a leading manufacturer of industrial automation products and industrial sensors for factory automation.
"Due to this collaboration, I was able to explore high-end industrial sensors and systems during my final year studies. This project enabled me to enter into several competitions. We won Best of the Best Project in Innovate Malaysia, First Prize for Microsoft Imagine Cup and represented Malaysia to the regional competition in Manila, Philippines. My team learned a great deal of new knowledge in term of technical, business and how to pitch to potential investor," he said.
Nik Ahmad Faisal said that both UTM and DF have provided him a conducive learning environment to expand his potential as the expectations and confidence given to him helped him to achieve something he himself did not belief earlier.
"I was excited and proud to know that UTM produced graduates who could start an industrial automation or technological company that exports to big multinational companies at international market and that I contributed partly in building this company.
According to him, all the customers he met when working with DF Automations thought that the AGVs manufactured by our company were produced in highly technological advanced countries such as the United States or Japan because of its high quality, software design and Industrial Revolution (IR) 4.0 capabilities.
"They were also surprised that I graduated from a Malaysian university. I shared about our university culture where students were encouraged to join competitions and student's society to share knowledge," said Nik Ahmad.
Before ending his conversation, Nik Ahmad Faisal also gave an advice to new students who wish to advance further in their life.
"My advice to new students, if you wish to advance further then you cannot focus on just studying alone. Real job requires real experience with latest technology in the industry.
"Get hands-on experience from as early as from the first year of studying. If you can, get a mentor to guide your career path and try to do extra work during your studies," he advised.
Nik Faisal also stressed that the process of holistic learning will require one to involve in such activities such as the participation in competition, co-curricular activities and part time work for enrichment of experience.
"Your participation in competition, co-curricular activities and part time work for skill enhancement would set you apart from the fresh job-seekers when you graduate from university.
"From my point of view, it is not the winning that matters but the experiences and the soft skills that you earned during your industrial training and doing part-time job that really matters most and given priority by your future employers," he said.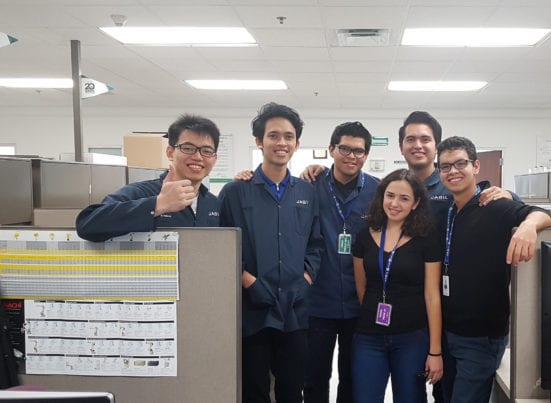 Nik Ahmad Faisal (second left) during his first deployment to Mexico together with Mexican customer
s.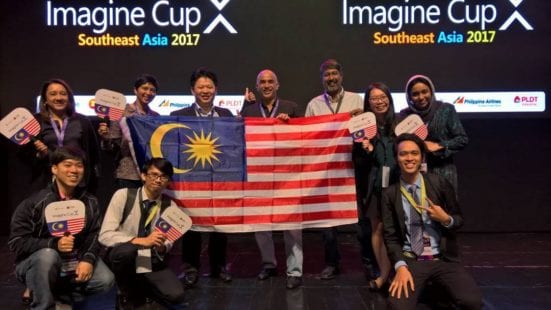 Nik Ahmad Faisal (sitting most right) together with Supervisor Dr Yeong Che Fai (standing 3rd from left) during Microsoft Imagine Cup South Asia 2017 competition in Manila, The Philippines.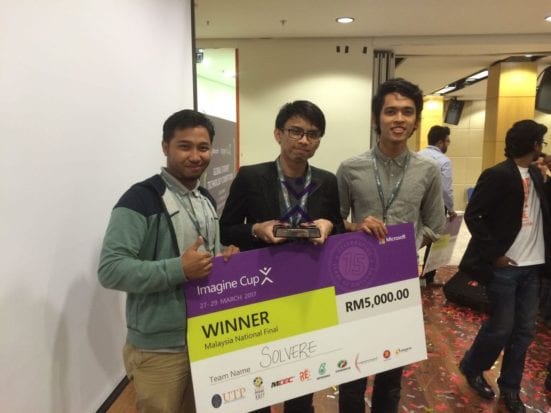 Nik (far right) together with team mate Zulfahmy (far left) and Shukri (middle) won the First Place in Imagine Cup Malaysia 2017 during their undergraduate study in UTM
.
Original copy: 
https://vulcanpost.com/660201/df-automation-robotics-agv-malaysia-technology/?fbclid=IwAR36hKY9xRIkvMehMPncEqxCIas3Gn_1zOYNc89Zh5XFtlySHa-tBykRhWo
DF Automation & Robotics is a Malaysian tech-based company that produces automation and robotics.

The business specialises in designing, manufacturing, marketing, and consistently improving Automated Guided Vehicles (AGV) systems for various kinds of industrial and commercial use.
Everyday in a manufacturing plant, there are thousands of goods being moved from one location to another.
Although most of the products are light and easily moved around, sometimes operators have to deliver goods as heavy as 500kg and walk up to 3km per day. This can be tiring and hazardous for the operator in the long run and not many want the risks associated with the job.
Furthermore, it will also be a big challenge for the factory to hire workers due to the above-mentioned factors. Hence, this is where robots or so called Automated Guided Vehicles (AGVs) come in to assist humans in their jobs.
Today, it's relatively common to actually see humans and robots working hand-in-hand to move goods as seen in American multinational technology company Amazon's fulfillment centre.
But although common in more developed countries, it's rare to see AGVs in Malaysian factories, meaning that most factories still hire operators to move goods.
So hoping to make a change and to make Malaysian-made "robots" more widely known throughout the world, Dr. Yeong Che Fai—a lecturer at University Teknologi Malaysia—along with his students Ricky Yap and Tan Ping Hua started Johor-based DF Automation & Robotics.
A Multi-Billion Dollar Market
Image Credit: DF Automation & Robotics
For those who are still unsure as to what AGVs are, they're industrial mobile robots that move autonomously on their own while carrying loads.
An AGV is actuated by DC Motors and equipped with electronic components such as sensors, motor driver, computer and batteries. The overall AGV body is made of steel or stainless steel to allow it to be used in tough environments.
Another important part is the software behind the AGVs and for DF Automation, they have developed their own software called NavWiz (Navigation Wizard) as the brain to operate their AGVs.
"Most of other AGV software are not easy to use," said Che Fai. "Thus it is one of our aims to make the AGV programming as simple as step 1,2 and 3."
According to the Dr. Yeong, AGVs have been in market since the 1950's. But even so, the market has been dominated by the powerhouses of USA, Japan and Germany.
Curiously, the Malaysian market has seen a spike in the interest towards AGVs for the last two years thanks to the push by many organisations and the government to increase the awareness of Industry 4.0.
In 2018, the AGV industry is valued at USD2.49 billion, but the global AGV market size is expected to reach USD7.28 billion by 2025, according to a new report by Grand View Research. 

Growing Worldwide
Customers of DF Automation & Robotics.
DF Automation & Robotics' main customers are from the Electronic Manufacturing industry where they traditionally use AGVs to transfer loads from warehouse to production lines, or from finished goods to warehouses.
"Another big portion of our customers are from automotive where AGVs are used in their production line to carry the chassis of motorcycles from one station to another," said Che Fai. "We also have another big portion of customers in F&B where smaller sized AGVs are used to deliver food to customers."
This particular F&B-purposed robot is much smaller in size compared to their standard AGVs and is powered by NavWiz.
"This robot is capable to deliver food order directly to customers tables without servers to bring you your food," he said. "The robot charges itself automatically and will stop if an object comes within the track area."
Although they have a number of clients with them, they still face competition from AGV manufacturers based in China that provide cheaper AGVs but with less features.
"These Chinese AGVs are useful for simple tasks, but when they face more complex and complicated solutions, they are often are not able to perform," he explained.
On the other hand, DF Automation & Robotics also faces competition from the more premium AGV market in Japan, Denmark, and USA.
Hence Che Fai wants to position the brand between the low cost and premium market.
"We are very much towards affordable AGV prices but offering more features that could provide full AGV solutions," he said. "NavWiz allows us to program the solution faster than our competitors and also it's industry 4.0 ready."
Leaning & Growing Rapidly
Image Credit: DF Automation & Robotics
Che Fai and his team actually build and develop every AGV from scratch, including having spent close to 3 years developing the NavWiz software.
In the past they took around 1 to 1.5 years to develop a new AGV model but as of now thanks to their NavWiz software and experience that they've gained, they can produce a a new simple AGV model in 3 months while it can take up to 6 months for more complicated AGVs.
They've also recorded positive growth from 2016 with at least 80% total revenue growth per year. Furthermore, they're also already profitable and revenue is said to be approximately in the tens of millions of ringgit.
This is all no surprise as DF Automation's AGVs can range from RM70,000 to RM300,000, depending on the requirement and application. There will also be additional cost if customers would like their AGV system to be integrated with other machines, robots, and lifts.
As for his current plans, Che Fai stated that they'll focus expanding in Southeast Asia—especially Indonesia, Thailand, and Vietnam.
"We will start to venture to the European market by the end of this year and to the American market the following year," he said.
Although he is the chairman of the company, he still continues to lecture in UTM as one of the reasons that he ventured into entrepreneurship was to show that a tech company that is built by a Malaysian lecturer and students can become a world class tech company.
"In Malaysia and basically most other countries, we need SMEs to support the economy, and if DF becomes successful, it can inspire many Malaysians to venture into entrepreneurship and build many world class companies—just like what the Silicon Valley does," he said.
With the hopes of listing DF Automation & Robotics in 5 years, he wants the business to be the leading robotic maker in the region and to be a success story for other SEA-based tech companies.
UTP PERAK, 28 March 2017, Universiti Teknologi Malaysia group once again announced as Malaysia Microsoft Imagine Cup 2017 National Winner. The team Solvere also won the "RE:INVENT" awards and will be representing Malaysia in Imagine Cup Asia Pacific Regional Finals this 23-27 April 2017 in Manila,Philippines fully sponsored by Microsoft Malaysia which they will be competing 10 teams all around Asia Pacific to win top 4 places to be able to compete in Seattle , USA.
Microsoft Imagine Cup is the world's premier student technology showcase where they will distribute the competition in region first before proceeding to the final event.The team were asked to integrate Microsoft Cloud Service platform which is Microsoft Azure in their invention.
The winning team, Solvere has developed a SmadBot (Smart Advertising Robot) in which the robot capable to move around in attraction places like shopping malls, restaurant, airports and exhibition based on waypoint navigation. One of the unique feature of this robot is that it can know the person details by scanning face to predict age, gender and emotion and then show relevant advertisement according to the person who is standing in front of it. This method of targeted advertising also publish the data to the cloud so that advertisers can perform analytics on their data and make decision out of it.
Team Solvere comprised Nik Ahmad Faisal Bin Mohd Kamarolzaman, Muhammad Syukri bin Mohamad Sainal, and Zul Fahmi Khamiti from 4th year Mechatronics Engineering student from Faculty of Electrical Engineering. The team is supervised by Dr Yeong Che Fai. Dr Yeong also supervised another student team last year who has developed an Innovaboard that that has won the Overall Winner as well with the invention of Innovaboard (http://www.utm.my/students/2016/04/17/utm-won-microsoft-imagine-cup-malaysia-2016/)
Another team, VRgini won 1st Runner-up also from UTM. The team comprised of Abdul Wahab 4th year Petroleum engineering, Mohammed Ahmed Saeed Al-Alas 4th year Mechanical engineering and Young Bang Xiang 4th year Electrical and Electronics engineering. They built an app that disrupts the Real Estate market by using virtual reality for property marketing and showcasing.
2nd Runner up also from UTM, Team TnG Solution comprised of team leader Lim Ji Chen, Chin Linn Kern, and Teh Zhi Huei all from 3rd year Electronics Engineering Student. The project is EDAR, an augmented reality educational app that educate people in using any devices and instruments across medical and other industries. This team is supervised by Dr Eileen Su Lee Ming.